Map Image: Bill Gabbert
General large area of
Mountain Fire
which has burn from McCall Park road on private property in Mountain Center California towards and down into Indian Canyon towards Palm Springs and the Coachella Valley.
UPDATE:
July 20, 2013 (11:45 P.M.)
Idyllwild Fire: Thunderstorm Threat Is A Wildcard
Thunderstorms present a major threat to progress this weekend. Combined with hot air on the ground, the unstable air could create a strong updraft that draws smoke high into the atmosphere, fire spokesman Capt. Mike Lindbery said.
If the smoke column rises too high, moisture at the top could freeze and the weight of the ice could cause the column to collapse, creating a powerful downdraft in all directions.
"We're very concerned because this is the condition in the past that has definitely caused big firestorms and the death of citizens and firefighters," Lindbery said.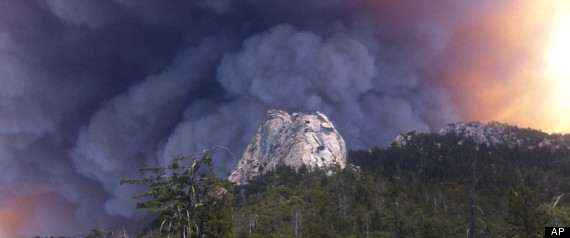 Photo Credit:
AP
Looking at fire from Idyllwild through Fern Valley and Humber Park
UPDATE:
July 18, 2013
New map of
"Mountain Fire"
progress
3-D Image: Bill Gabbert



3-D Map of Mountain fire at 9 p.m. July 17, 2013. Looking northwest from above Santa Rosa Mountain angle.




(Click to Enlarge)
The
"Mountain Fire"
has grown considerably Wednesday and is now listed at 22,800 acres. There is a large southeastern flank which is heading into Trails End and Morris Rand Road and the northern flank which has burned up towards Tahquitz Peak and into the Mount San Jacinto Wilderness and branched out into areas of the Palm Springs side of the mountain range.
Image Credit:
Bill Gabbert
(Wildfire Today)
Map of the Mountain fire at 9 p.m. July 17, 2013. The difference between the red shaded area and the non-shaded area inside the red perimeter represent the growth of the fire on Wednesday.
(Click to Enlarge)
It's sad to think of what has happened to this region of the
San Jacinto Mountains
as it use to be my home for almost 24 years of my life. I had been there taking photos of just this region of
Mountain Center
and greater surrounding region where so many accounts and stories are to be found behind every view. This event moved me to write about specific things I've seen back in the early 1980s and was going to post later, but moved up my timeline. Here is the way things stand now and thanks to
Bill Gabbert
for updates.
Image provided by Bill Gabbert &
Google Earth
Here is a larger image link for this 3-D map of the Mountain Fire coverage I've created for everyone to click on for greater details of locations. Hopefully this may be larger than the one showing. The images in red is showing heat detected by a satellite. The red squares are the most recently detected. Clicking on the image, you can also Zoom in with your own screen tools.
USDA MODIS Active Fire Detection Program for Mapping
Credit:
UCSD Web Cam (El Toro)
This view is looking west towards the Mountain Center Fire from El Toto Peak in the
Santa Rosa Mountains
above
Palm Desert
. This is the
UCSD
webcam shot of the fire at
10:47 a.m. July 16, 2013.
Here is a link to the El Toro webcam. There are some very kool image tools if you know how to use it of the Mountain Fire's progress throughout each day and night from this El Toto Peak Webcam. They are recorded here at this link every few minutes. They also have other Webcams on other strategic locations around Southern California which may be helpful at any one time.
El Toro Peak Webcam images for Mountain Fire Progress
The fire near Mountain Center has been mapped as of 8 p.m. July 16th at an estimated 9,000 acres before sundown Tuesday, and more than 2,200 personnel aided by 25 aircraft were assigned to the blaze, according to a
U.S. Forest Service
update. The fire had destroyed 21 structures, including homes, mobile homes and outbuildings. As most everyone now knows, it started before 2 p.m. Monday afternoon on July 15th west of the junction of Highway 243 and SR 74 on private property on McCall Park Road. It's apparently still being investigated as to the cause, but no doubt some human error. This fire may well burn for months in small pockets in inaccessible terrain. The danger potential will always exist during this period as weather conditions made worse by the ever changing climate components may or may not exacerbate the problem with some hazardous flare ups. This coming weekend a
monsoonal
wind
flow pattern from the southeast out of Mexico will test what happens to the direction of this fire.
Hot Spots
could flare up because of the desert southeast winds and blow the fire up the backside of Tahquitz Mountain and/or push fire more westerly into the Mount Jacinto Wilderness Park. There are literally no roads other than some hiking trails up there. To give an illustrative difficulty of the containment challenge, the Mount Gorgornio's or San Bernardino Mountains (click the link)
Hathaway Fire
above Banning/Cabazon has still been active for over a month with FULL containment yet to be realized as a result of the impossible rugged terrain. So everyone within range of this Mountain Center fire should for the next couple of weeks be prepared for anything to happen at a moments notice.
Update July 18, 2013:
Pyrocumulus Cloud formation intensity picking up with wind shift created by this weekend's Monsoon flow moving fire from Garner Valley back up over Mount San Jacinto towards Idyllwild and Fern Valley.
image: accuweather.com
You've all seen this pattern before and it's returning and shifting things which means fire surprises
Mountain Center Fire and this Weekend's Monsoonal Flow Shifting
Update July 17, 2013:
"
Idyllwild
Fire Grows to
19,200 Acres
, Destroys Homes and headed for
Fern Valley
&
Idyllwild
"
Evacuation Notice for Idyllwild and Fern Valley
Incident:

Mountain Wildfire
Released: 2 hrs. ago
EVACUATION NOTICE
Due to the rapid growth of the Mountain Fire the Riverside County SheriffÂ's office in cooperation with the Idyllwild Fire Protection District has issued an Evacuation Order.
The following areas are being evacuated:
The communities of Idyllwild and Fern Valley, US Forest Service Campgrounds and the US Forest Service Wilderness and the Mt. San Jacinto State Park are also included.
This evacuation notice does not include the areas of Pine Cove, Mountain Center, and Poppet Flat. The fire has transitioned from a wind driven fire to a fuel and topography driven fire. This condition has caused a shift in the direction of spread necessitating the evacuation as the fire moved to the west this afternoon and presents a threat to nearby communities. With vegetation moistures at record lows fire spread has been extreme and dangerous.
The fire has transitioned from a wind driven fire to a fuel and topography driven fire. This condition has caused a shift in the direction of spread necessitating the evacuation as the fire moved to the west this afternoon and presents a threat to nearby communities. With vegetation moistures at record lows fire spread has been extreme and dangerous. This is the best choice in a difficult situation. The highest priority is to protect the lives of citizens in the immediate area of the blaze.
Every possible effort is being taken to slow the fire and prepare to halt its progress. Firefighters continue to fight the fire on the ground and with helicopters and fixed wing aircraft. Additional crews are improving contingency lines west of the fire where they may be afforded the opportunity to stop the fires advance.
Residents who are out of the area and need to return to evacuate family and retrieve valuables will be allowed through road closures with proper identification.
Evacuation Routes
Hwy 74 to Hemet
Hwy 243 to Banning
Hwy 74 south to Anza, Palm Desert
Road closures:
State Highway 74 between the Pepper Trees to State Highway 371.
State Route 243 at Banning.
Evacuation Centers
Hemet High School, and Hamilton High School and Beaumont High School
Update: July 18, 2013:
Trails End & Camp Joe Sherman being evacuated along with other residents on Morris Ranch Road north of Garner Valley
Mountain Fire Updates for Trails End and Camp Joe Sherman & Chaparral Fuel Management
Credit: InciWeb
Many don't realize that these events are happening all over the globe. Sometimes they only become relevant News when we are personally effected. The Human ERROR element has always
been an issue with these origins, but the greater problem now is change in global Climate Change which for some bizarre reason is allowing these fires to outperform mankind's most sophisticated technological innovations, experience and understanding of fire fighting strategies. This fire above is near Las Vegas. It is called the Carpenter1 Fire and still active.
Inci Web: Carpenter1 Fire
Relevant Information Links for Mountain Fire:
Riverside County Fire Department (2013 Mountain Fire Incident)
Incident Information System: "2013 Mountain Fire"
Keenwild Weather Station Report - Mountain Center
CAL FIRE and Riverside County Fire - West Live Audio Feed
http://wildfiretoday.com/
http://www.californiachaparral.com/firenature.html