The
Swedish
word -
"SYSTEMBOLAGET"
which when translated quite literally means
"The System Company"
is the only place in
Sweden
for which to purchase
booze
. Well okay yes of course you can purchase 2.8% - 3.5% watered down
Beer
at many Grocery Stores or even order it out at restaurants, but when you are inside Sweden and want the good stuff , you must go to a government owned and operated store called
"SYSTEMBOLAGET"
.
SYSTEMBOLAGET in
Torslanda
on
Hissingen
The strict government control is justified as being for the citizens own good and it has nothing to do with
*cough-cough*
profiteering for the socialist coffers (seriously, their own website says this). I have heard this explanation a number of times when speaking to the person at the check out counter. However, the government website for
Systembolaget
has a different take on why they exist. Please read along below on the official reasons for Monopoly.
"Systembolaget exists for one reason: To minimize alcohol-related problems by selling alcohol in a responsible way, without profit motive."
"The first alcohol monopoly ever started in the mid 1800s in Sweden. It worked so well that the model was spread all over the country. In 1955, the local companies were merged to form a single, national Systembolaget company, a concept which still works.
Systembolaget has a nationwide retail network of 418 stores and over 500 agents serving smaller communities. The agents do not carry items in stock, but the entire product range can be ordered through them.
Our staff are experts in food and drink and provide high standards of services for their customers. The work in the stores is brand-neutral. This means promotion of individual products or producers is avoided, which allows the advice to be provided entirely on the customer's terms.
Systembolaget's product range is actually one of the most comprehensive in the world. It is being developed continuously to match changes in trends and in the consumers' tastes."
Source:

http://www.systembolaget.se/English
Official Government Monopoly Explanation Video
Here's a immigrant

Canadian's

discovery of the differences between his country and

Sweden
I love the ending credits where lighting special effects were provided by

"Grey Skies"

- What else is new ?

What would happen if the Swedish Monopoly were abolished ?

Systembolaget's

website says this:
"An international group of researchers has performed a study on the subject."
Check out this funny explanation which after the intro is a sort of animated online board game where you can click on various animated icons to view a scenario outcome if
Sweden
got rid of it's monopoly which is there in the first place for the good of the people. I love the sound effects. You can here the common Magpies (black & white bird in the crow family -
Swedish name
=
"Skata"
) in the background.
http://www.systembolagetkampanj.se/forskarrapport_en/
Prices of course are insanely expensive. But remember it's for everyone's good. For example most beers here are purchased off the shelf as a single. There are truly no six or twelve packs. The low average price for one single beer at the store is about 12 Kronor which is almost two Buck$ off the shelf. The High end is almost three Buck$+ for a single off the shelf. My wife and I did find one beer that the average skidrow drunk here favours and it's called "Cheap Thrill" which is made by the company Spendrups Bryggeri. It's actually comparable to the American liquor store products for skidrow bums like "Thunderbird" brand wine or a beer called Colt 45 Double Malt Liquor (12%).
I don't know what it would be like if the Monopoly were abolished. There is a huge Alcohol problem here anyway even if it's not admitted openly. Cheap booze is smuggled in from other European Union Countries and the E.U. itself has protested the Swedish Monopoly and laws have changed to allow a citizen to purchase and personally bring over large quantities of their favourite brands. It is quite common to be on a
Stena-Line Ferry
coming back from
Frederikshaven Dänemark
or
Kiel Deutschland (Germany)
with people pulling refridgerator or package freight dollys loaded with all manner of cases of Beer, Wine and hard liquor. Officially you're not a true Swede unless you've purchased a red hand cart for traveling on Stena Line.
I could show you photos of the Saturday & Sunday morning aftermath scenes at most Trolley & Bus Stops where people drank to much and left a calling card to let other know they were there, but I'll spare you. I don't know why or how for that matter, but most Swedes are enough disciplined to not drink during the week, but will binge drink themselves into a stupor on the weekends. Rarely have I seen many in Public places drink moderately just to enjoy a fine wine or beer along with food which is usually more than double the price of any
Systembolaget
shelf price. My wife often listens to Monday morning crazy stories from her co-workers who got tore up on the last weekend. Well, that's some of the cultural life in
Sweden
with a culture that looks for ways to beat the cold wet darkness of the Winter Season. Now you know more about
Sweden
than you really wanted to. In many ways they are just like everyone else on this globe!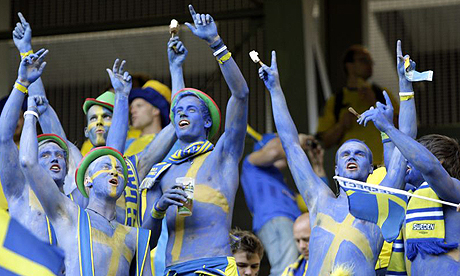 Truthfully speaking there are Party Animals all over the world in every country. People should always drink in moderation no matter what and drink to enjoy and appreciate a good wine, beer or your flavourite liqueur or spirit. Over indulgence makes it almost impossible to appreciate the uniqueness of anything.
.